Hannah Fury - "Meathook." No idea where this came from. Probably part of a compilation tape that discompiled itself when the disk containing my music library went kaput in April 2007. I salvaged all of the data, but many mixes were no longer mixed. Anyway, she's a Kate Bush-y singer-songwriter, and I am not enamored of the music.
Harmonia -
Deluxe
(1975). A collaboration between guitarist Michael Rother of Neu! and the guys in Cluster (plus the drummer from Guru Guru on some tracks), Harmonia should be first-rate krautrock, but it's, well, not quite as good as the main project for any of these bands. This isn't to say that this album is any less than beautiful and astonishing, because it is, at least here and there, but it's never quite sunk into my consciousness as much as the best (meaning: "my favorite") krautrock.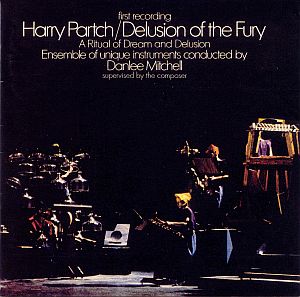 Harry Partch -
Delusions of the Fury
(1971) and
17 Lyrics of Li Po
(1995). A unique composer, Partch heard sounds of such subtlety that he had to invent new instruments and a new musical notation to capture them. These recordings feature two of his compositions.
Delusions of the Fury
is an utterly delightful album, with many Partch-built instruments on display (conducter Danlee Mitchell had to teach each musician individually how to play Partch's creations) and Partch's stunningly emotional music throughout.
17 Lyrics of Li Po
is a piece for "intoning voice and adapted viola" and is quite a bit more difficult for me to get through: although interesting in parts, it's mainly an intellectual exercise for me.
Harvey Mandel - "Tobacco (Live)." Another mystery entry. Mandel is a classic rock-era blues guitarist who apparently auditioned for the Stones when Mick Taylor left. Of limited interest to me, but I can see where others might like this quite a bit more than I.
Harvey Milk -
Courtesy And Good Will Towards Men
(1995) and
Life... The Best Game In Town
(2008). Extremely creative sludgey art-metal with a singer trapped in perpetual need of a throat lozenge. I have a hard time imagining how to recommend these albums to people ("say, wanna listen to some of the most depressing, heaviest, and most willfully uncommercial music ever recorded?"), but I think those who like this music will love the everlovin' crap out of it. The band is a fairly recent discovery for me; I picked up
Life
last year on a friend's recommendation and
Courtesy
shortly thereafter from eMusic, but I held off of the other Harvey Milk albums on eMusic until these could sink in. By the time I was ready for more, eMusic had quit offering the other albums. Ah well.
The Headstones - "Fuck You." Delivers on the promise of the title, for what that's worth.
Heavenly - "Hearts and Crosses." Cheery indie-pop that generally means the lyrics are probably pretty dark, but I didn't listen that closely.
Hell on Wheels - "The Logical Song." Ugh. I don't know why I have this Supertramp cover, nor why anyone felt it was necessary to cover Supertramp.
Hella -
Total Bugs Bunny On Wild Bass
(2003),
The Devil Isn't Red
(2004), and
Acoustics
(2006). Spaz-rock with guitar and drums that wind around each other at breakneck speed. Although Hella's music is rather surprising in its speed and precision, there's a bit of same-ness to the songs. On
Acoustics
, they rerecorded some of their compositions on acoustic guitar and tambourine, and still sound more or less the same (if a bit more muted), which is a pretty persuasive argument that Hella's power is not about volume.
Hellwood - "Firewords Factory." Only-okay 2006 alt-country song from an sub-supergroup (group?) with under-appreciated alt-country singer-songwriters Johnny Dowd and Jim White (not the Dirty Three drummer).
Helmet -
Meantime
(1992) and
Betty
(1994). I dunno, man. For all the talk about Page Hamilton's credentials (Band of Susans! Glenn Branca! Casper Brötzmann!), this is some of the most convential-sounding metal in my collection. It's not bad, mind you. In fact, I like it quite a bit. But it's not exactly tearing down genre boundaries the way that critics at the time seemed to think it was.
Henri's Notions -
Don't Waste Your Wishes
(1992). An early album from Tuscaloosa, AL's premier Irish music band with lovely covers of "That Lucky Old Sun" (which I think of as a Ray Charles song, although I think Dizzy Gillespie wrote it) and Richard Thompson's "Crazy Man Michael."