The Go-Betweens rank among my all-time favorite bands. Lots of songwriters cite Dylan's influence, but few wrote songs worthy of that influence. The Go-Betweens were a band that did Dylan proud. Built on the partnership between Aussie songwriters Robert Forster (the arty one) and Grant McLennan (the poppy one), the Go-Betweens crafted songs as if they were artisan glassblowers, shaping raw emotion into impossibly light and beautiful artworks: unfailingly smart, often enigmatic and yet equally translucent, melodic, dissonant, dynamic, passionate. The band recorded a number of albums together in the 80s and then broke up when they failed to find any success. But then the two songwriters got back together in the 00s and put out three more studio albums that were the equal of their earlier work. That puts them into pretty rarified company. Mission of Burma, yes. But who else?


Although I consider many of their albums among the best in my collection of music, all of their albums took time to grow on me. The first one I bought, Spring Hill Fair, I found a little underwhelming before I realized - abruptly and without forethought - that I loved the hell out of it. And this was repeated with the others. I'd often even find myself a little turned-off by something in the production at first. But I'd come back. I had to revisit, maybe a little intrigued, and again, every time, I'd find myself unexpectedly head over heels in love with the album. That, in a nutshell, is what drives my charged relationship with music.
There's so much goodness in their oeuvre. I hope any readers of this blog who aren't familiar with the band take the time to explore their music, and if you, like me, are a slow learner, take the time to let it percolate through your system. It's intensely rewarding music.
As you may notice, I've gone out of my way to get my hands on every scrap of music I can (when I've had the resources, at least). That's not a necessary component to being a Go-Betweens fan, so don't feel obligated.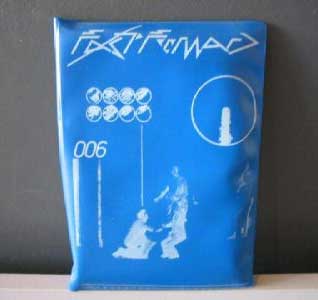 '78 to '79: The Lost Album
(released 1999) and
Fast Forward Tapezine
(1981). Call this the prehistory. The first album includes the first G-Bs singles and some bedroom demos. "Lee Remick" is about the actress ("she's a darlin'," according to the lyrics) and "Karen" is an ode to a librarian who Robert Forster thinks sexy not because of her looks but because she loads him up with great literature. There's a couple of other decent songs on this, but it's impossible to think of this as a great album. They're still learning, even if you can see glimpses of the songwriters they will become. The
Tapezine
is a rarity with three songs (including "Karen"). The song "One Word" appears again on the
Postcard Demos
and as an extra on the expanded version of
Send Me A Lullaby
.
Send Me A Lullaby (1981) and Postcard Demos (1981). The Postcard Demos are four tracks put out by Postcard Records of Scotland. Three of these appear as extras on the expanded version of Send Me A Lullaby, the first real G-Bs album. The sound on Send Me A Lullaby is a little post-punkish and angular, which is kinda cool, but the songs are still not quite there. At this point, the G-Bs consist of Forster on vocals and guitar, McLennan on bass, vocals, and overdubbed lead guitar, and Lindy Morrison on drums. She would remain their drummer for the rest of the 80s and inspire one particularly sweet Jonathan Lethem article on the G-Bs. There's a little skronky sax here and there on the album, too, but I'm left without much to say about it.

Before Hollywood (1983), "Heaven Says" (the "Cattle & Cane" B-side, 1983), and Live On The Wireless 11 July 1983. Before Hollywood is not just the first great Go-Betweens album, but one of the greatest albums recorded by anyone. This is the expanded reissue, so it includes "Heaven Says" already, but man, it took me a while to track that song down before the reissue came out, so I'm not deleting it. Anyway, the music: still a bit post-punk, but with a lot of more melodic folk. The album opens with "A Bad Debt Follows You," starting with some off-beat tense interplay between guitar and bass and building towards a catchy chorus. Next is the REM-ish "Two Steps, Step Out" and the art-rock of "Before Hollywood." Then the beautiful "Dusty In Here," which is a short story told in impressionistic strokes. "Ask" is the most rocking song on the album, which isn't saying much, and "Cattle and Cane" is, rightfully, one of the band's best-known songs, an incredibly powerful ode to growing up and losing everything familiar behind. "By Chance" is another REM-ish folk/post-punk track, and "As Long As That" is a slow builder with some of the sharpest lyrics on the album. "On My Block" marries an insistent melody and singalong chorus with lyrics about an attraction in ruins. And the closer, "That Way," addresses an artist who is going through a lean time (I think, at least) but promising to find something better. Highly recommended.

Spring Hill Fair (1984) and "Rare Breed (the "Bachelor Kisses" B-side, 1984). With bassist Robert Vickers in the band, Grant McLennan could move to lead guitar, thus allowing the band to pursue less jagged music. Unfortunately, I like jagged music. But while Spring Hill Fair is more folky than Before Hollywood, the songs are still amazingly well-written. The production, unfortunately, screams "1984!," and leans towards the romantic New Wave side of things, while the songs themselves tell stories that seem both jaded and hopeful. My favorites are "You've Never Lived," "Draining The Pool For You," and the mostly spoken-word "River of Money," which I hated at first. My favorite line is from "Man O'Sand To Girl O'Sea": "Feel so sure about our love/I'll write a song about us breaking up." Talk about bravery.

Live in Wellington NZ 11 Feb 1985, Live in Wellington NZ 12 Feb 1985, The Liberty Belle Demos (1985), Liberty Belle and the Black Diamond Express (1986), and Spring Rain 7" (1986). The live bootlegs are okay. Although I'm not a huge fan of live albums, I tend to like them for the Go-Betweens. As I mentioned before, I'm often not so enamored of the production, and the drier live versions often read better to my ear. I only have two songs from the first live date, but the second one is a full concert. The demos I found on the web, and they're interesting but not necessary. The album Liberty Belle and the Black Diamond Express is just incredibly strong. Like Spring Hill Fair, it has a fairly romantic feel to the production, but the sound and the songs work better together here. There's still a more heavily folk-influenced feel to these songs, but it's a chamber pop-style folk, and a song like "Wrong Road," built on an insistent progression, is heightened by the string arrangement. And man indeed, what a great collection of songs. I love them all, but "Head Full Of Steam" is my favorite: "Her father works/Her mother works in exports/But that's of no importance at all/I don't mind/I don't mind/To chase her: a fool's dream/I'm 104 degrees/with a head full of steam." That's passion expressed beautifully. I'm a little ashamed to say that I never picked up the expanded reissue of this album. Never had the $$ when I saw a copy, and then it went out of print while I was focused on other things, dammit.

Tallulah (1987), Andy Kershaw Radio 1 Session (1987), Cut It Out 7" (1987), and Tallulah Demos (1987). For the longest time, this was my least-favorite G-Bs album. The production is the most bogged-down in 80s trappings. But I've come around. The band added multi-instrumentalist Amanda Brown (violin, guitar, oboe, keyboards, and harmony vocals) for this album, and the songwriting is sharp as ever. My favorite song is "Bye Bye Pride," which is incredibly catchy and accented with what sounds like a melodian, although I thought it was a violin for the longest time. This is another album where I didn't pick up the reissue, and I have no idea why.

16 Lovers Lane (1988), 16 Lovers Lane Acoustic Demos (1988), Live on Snap! (1988), The Botany Sessions (1989) and Neu Holland EP (1994). The live album has dates from 1988 and 1987 on it, the former acoustic and hushed, the latter a bit raucous with a full band. Fantastic performances on both. The acoustic demos only underscore what an amazing achievement 16 Lovers Lane is. Because the album itself - the last studio album of the original incarnation of the band - is a powerful, honest look at relationships starting to curdle that is comparable in pop terms with Rumours and in emotional terms with Shoot Out The Lights. The opening track, which details the darkness of obsession creeping into the relationship ("There's a cat in the alleyway/dreaming of birds that are blue/Sometimes, girl, when I'm lonely/this is how I think about you") blossoms into the affirmation of the chorus: "love goes on, anyway." The second track, "Quiet Heart," is a mixtape of sadness and hope all by itself: "I try to tell you/I can only say it when we're apart/About this storm inside of me/And how I miss your quiet, quiet heart." How can such simple words be so rich? Every song on the album is about as perfect as a song could be, but the closer, "Dive For Your Memory," is especially wrenching: "Now I dive black waters/the waters of her dream/are black a forgetful/I'd like to make them clean/So when I hear you saying/that we stood no chance/I'll dive for your memory: We stood that chance." A suicide note wrapped in promises unfulfilled. The extras include the delightful "Mexican Postcard," my favorite non-album G-Bs single (it's one of the three tracks that popped up on the Neu Holland EP in 1994), plus some of the Botany Sessions. Those sessions - included here in a bootleg I picked up - are demos for the follow-up to 16 Lovers Lane, which never appeared because the band split up instead. Hard to say how these would have sounded with more work, but there's snippets of greatness on display. Neu Holland was an EP with three G-Bs songs that appeared some five years later. I don't know enough about it to even say why it exists.

The Friends of Rachel Worth (2000), Live In Vienna 29 July 2000, and Surfing Magazines single (2000). And then there was a decade of Forster and McLennan pursuing other projects. And then they were playing together again under the name "The Go-Betweens." This album is rounded out with Janet Weiss of Sleater-Kinney and Quasi on drums, her Quasi bandmate Sam Coomes on keyboards, and new bassist Adele Pickvance on bass (the other two guitars from Sleater-Kinney pop up on one track). The music is gentler, less concerned with bringing the big pop hooks or jagged post-punk guitars, and yet it brings both, seemingly without trying. Their single albums kept Forster and McLennan in good fighting shape, and their songs are still as sharp as ever. The live album is a pleasant bootleg, and the single includes live versions of some of their songs.

Bright Yellow Bright Orange (2003) and Live At The Barbican 27 June 2004. This is my favorite of the later G-Bs albums, with Forster and McLennan sounding a little older, yes, and a little wiser, too. The songs are packed with smarts and beauty, and there's too many highlights to mention. Many of the G-Bs songs are character studies, but the inhabitation of the characters on this album is at a particular high. For instance, from "Something For Myself": "Raised in the Depression/suspicious of what is new/told not to pick at/society's glue/think I'll sniff it/that's what I'll do/for myself." The live date is a bootleg of a show that the G-Bs themselves later released as the tour-only CD Live In London.

Oceans Apart (2005) and Brisbane Acoustic In-store May 2005. Even lusher than BYBO, Oceans Apart is a lovely, lovely album that would be my favorite of the later albums if it wasn't so marred by poor mastering. That's a horrible reason to have a problem with an album, but this album is so overcompressed that even on ordinary headphones the constant distortion of sound pushing into the red makes it all but unlistenable. According to Wikipedia, the British label that released this album offered to replace the original pressing with a less distorted re-release, but I don't believe that the US label (EMI) that released it has made a similar offer. They should; it sounds like shit. And it shouldn't. The songs are first-rate, the production gorgeous and lush and sympathetic (they hired Mark Wallis, who produced 16 Lovers Lane, for this), and the G-Bs sound as tightly synced as ever in their career. The bootleg offers Forster and McLennan playing acoustic versions of these songs (and others from their career).

That Striped Sunlight Sound (2006). This is a fantastic purchase, a live album that spans Forster and McLennan's careers, plus a DVD of that show plus another session of Forster and McLennan telling stories and playing songs, demonstrating the inner workings of their process. Awesome. But it is also, sadly, the last Go-Betweens album, as Grant McLennan passed away suddenly on May 6, 2006. McLennan's last songs - collaborations with Forster, naturally - appear on Forster 2008 solo album The Evangelist. And, of course, they're stunningly beautiful, driving home how much of a loss McLennan's passing was. I can barely listen to them for all the bittersweet emotion. And that's it for the Go-Betweens.