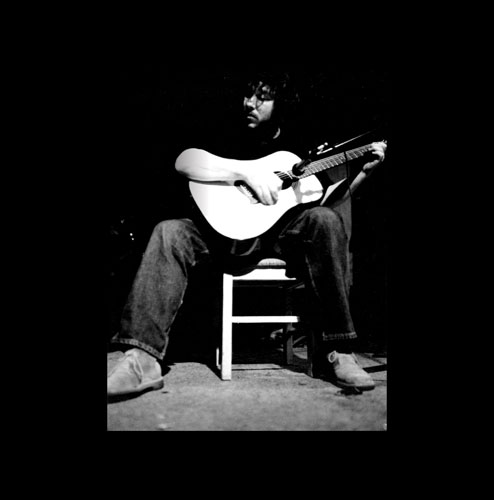 Arthur Smith and His Crackerjacks -
Fingers On Fire
(1949). This is Arthur "Guitar Boogie" Smith, not any of the other Arthur Smiths you might suspect. Mr. Smith was the original author of the song you may know as "Duelin' Banjos" or "that song from Deliverance," a fact that he had to sue to have acknowledged. Besides being a crackerjack guitarist (and wouldn't you want to be his sideman if that meant that you were one of his Crackerjacks?), Mr. Smith has nearly 500 copyrighted songs to his name and owned the studio where James Brown cut "Papa's Got A Brand New Bag." And this album is a fine example of his crackerjack instrumental prowess. Fingers on fire, indeed!
Buck Owens and His Buckaroos -
Carnegie Hall Concert
(1966). A fine, fine live album with Buck & His Buckaroos buckin' around on stage. This album contains lots of their biggest hits, some joking back-and-forth with Buck's right-hand man Don Rich, and some truly excellent performances. This one's fun for not just fans of country music, but fans of popular music. It's a document of an incredibly tight ensemble at the top of their game.
Charles Mingus -
Mingus Dynasty
(1959) and
Let My Children Hear Music
(1972).
When I wrote about Mingus back in May
, I mentioned a strange album I'd bought many years ago called
Shoes of the Fisherman's Wife
, which contained one song from
Let My Children Hear Music
and a bunch of songs from
Mingus Dynasty
, although not the whole album. I finally sprung for each of those albums, and man, does that music sound even better in context. Both of these are fantastic.
Charlie Rich -
Groove Recordings
(recorded 1963-1965). Fantastic compilation of Rich's tracks for Groove. Many of the best appear elsewhere in my collection in other Rich compilations, but there's nothing by Charlie Rich that isn't worth hearing. My favorite vocalist, hands down. Well, either him or George Jones. Let's call it a tie.
George Strait -
Right Or Wrong
(1983). Despite my affection for country music, I'll be the first to admit that I'm an urban-dwelling latte-sipping well-educated music-snob liberal, and I've never consciously listened to Strait before. But
Nathan Rabin, who's investigating country music over at the AV Club, liked this album
, and all of those adjectives presumably describe him, too, so I figured I'd give it a shot. And, well, I'm not as taken with it. "You Look So Good In Love" just sounds like a generic pop-ballad to me (and maybe that's the point of the video Rabin posted of Jamie Foxx covering it). The Western Swing elements were pretty great, but outside of the cover of "Right Or Wrong," which is a truly great country song that goes back at least to minstrel days, much of the Western Swing sounded like window dressing on these songs. It's definitely better (and more economical) than a lot of the crap pop-country around today. But it don't move me.
Jack Rose -
Peel Session 5/20/04
. Rose, who was only a year older than me, passed away recently. I was unfamiliar with his band Pelt, although I've picked up an album now. I found this Peel Session online, and boy howdy, is his Fahey-style fingerstyle guitar a pleasure. Wish I'd been with-it enough to be a fan while he was still alive.