The Jim Carroll Band -
Catholic Boy
(1980). He just passed away to the tune of a million refrains of his best-known song, so you probably know the most salient facts about Jim "The Basketball Diaries" Carroll. This is the debut album of his band, featuring the song that cemented his reputation, "People Who Died." It's still a killer track. Carroll was inspired by Patti Smith to form a band, and it's hard not to hear her influence on these tracks (complete with a Blue Öyster Cult connection!). But her work is better, which is not to say that this isn't good. In fact, it is pretty good. But outside of the title track and "People Who Died," it sounds like the filler parts of Patti Smith's early albums.
Jim Hall & Pat Metheny -
Jim Hall & Pat Metheny
(1999). Snoozy effort with two notable jazz guitars improvising around themes. It should be apparent by now that I'm a guitar nut with high tolerance for self-indulgent noodling and highly focused theatrics and other flashy wheedla wheedla wheedla. There is none of that here. This is restrained to the point of irritation.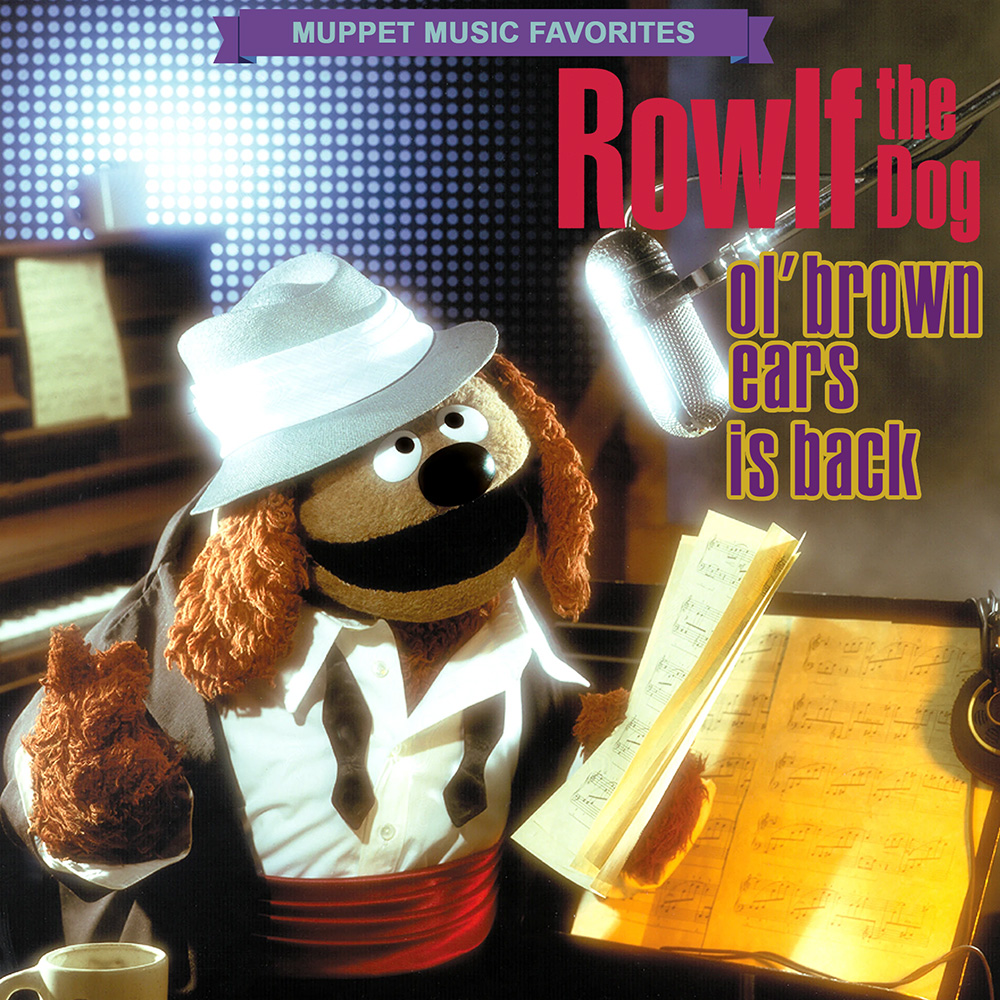 Jim Henson/Rowlf The Dog -
Ol' Brown Ears Is Back
(1993). Recorded in 1984 but not released until three years after Henson's death, this is an album of Henson in character as Rowlf The Dog doing Muppet songs and standards. With all the jokey asides and long (please forgive me for this) shaggy-dog introductions, casual listeners to this album might fool themselves into believing that they were listening to some lost Tom Waits live album from his early Tin Pan Alley-esque stage. Being a child of the 70s, I'm very fond of Henson and the Muppets as well as the Tom Waits crooner albums, so this is pretty fun for me.
Jim O'Rourke -
Bad Timing
(1997),
Eureka
(1999),
Halfway To A Threeway
(1999),
I'm Happy And I'm Singing And A 1, 2, 3, 4
(2001),
Insignificance
(2001), and "Pictures Of Adolph Again" (with Glenn Kotche). You might think, upon listening to all of the different sounds on these albums, that you had achieved a full understanding of O'Rourke and his music. But you would be wrong. At the most basic level, O'Rourke is a composer and avant-noise aficionado with enough sympathy for pop music to synthesize all of the disparate sounds that appeal to him in such a way that he can make sounds that are interesting to fans of the avant-garde without alienating a more mainstream audience. Which is how he has come to produce some of the most innovative pop & rock albums of the last decade while maintaining ties to a more difficult artistic community. So I admire the guy. Who doesn't? Upon seeing him and Richard Thompson in the studio together for the sessions that led to the soundtrack to Herzog's film
Grizzly Man
, I got my hopes up that he would produce an album for Thompson. Not to be, at least so far. But a man can hope. I mean, I know many of Thompson's fans hated Mitchell Froom's production on his 90s albums, but I think O'Rourke has a more sensitive ear than Froom, one more friendly to folk music and how it can intersect with avant-noise. So, my fantasies of a better Richard Thompson album aside, let's talk about Jim O'Rourke's albums. At least, these Jim O'Rourke albums.
Bad Timing
is a mostly-acoustic John Fahey-esque album that combines fingerpicked acoustic guitar with some light electronics, not unlike some of Fahey's later work. I love it. It has some affinity with the
Gastr del Sol
music that O'Rourke was making around the same time with David Grubbs, but it's a different animal.
Eureka
is a decent orchestrated pop album, and
Halfway To A Threeway
(an EP) blends the acoustic feel of
Bad Timing
with the some of the same sounds as
Eureka
, but the songs actually seem a little stronger than either.
I'm Happy etc.
is laptop music of minimalist compositions.
Insignificance
, which features Wilco's Jeff Tweedy and Glenn Kotche (the three of them comprise the group Loose Fur) and avant-jazz guys Rob Mazurek and Ken Vandermark, is a straight-up rock album with all sorts of surprising flourishes. It's fantastic. The single with Kotche is a piano-driven Elton John-esque pop song. Surprise!
Jim Reeves - "He'll Have To Go." God, could Jim Reeves sing. I keep meaning to drop the $20 that will buy me a two-disc career overview, but I haven't done it yet. This song is the 50s country version of a booty call in which Reeves plays a drunk calling his lady to ask her to ditch her beau so that he can talk with her the way he wants to. Awesome.
Jim White & Aimee Mann - "Static On The Radio." Less awesome. Jim White's an alt-country songwriter from Pensacola, FL with a bent towards odd sounds. I saw him play a bunch of years ago and was blown away, but I've never heard any studio recordings that threaten to move me nearly as much. This song, a duet with Aimee Mann, is so-so at best.
The Jimi Hendrix Experience -
Are You Experienced
(1967),
Axis: Bold As Love
(1967), and
Electric Ladyland
(1968). I thought that overexposure would have limited my appreciation for these albums, but boy was I wrong. These are still stunning, amazing, awestrikingly great albums: sonically rich, experimental, beautiful, abrasive, moving. Songs from these albums are often used in movies to signify "the late 60s," but I can't for the life of me think of another artist from the late 60s that had the creativity to sound like this.
Catch up!
The Clean - Mashed (2008). Live Clean album that's unreleased in the US. Camper Van Beethoven called one of their live albums Greatest Hits Played Faster. Also true here, but I love the Clean, so that's okay by me.
Destroyer - Streethawk: A Seduction (2001). I'm doing Destroyer wrong, working my way backwards like this, because instead of hearing Dan Bejar grow as an artist, I'm hearing him devolve. But I can't unring a bell. This is still excellent, and if I weren't so besotted with later Destroyer albums, this would be one I would recommend to everyone.