Jad Fair & Daniel Johnston -
It's Spooky
(1989). Fun little collaboration between a couple of certified oddballs. They cover a bunch of songs, adding their own twist (on "Tomorrow Never Knows," for instance, Fair insists that the listener not turn off his mind) and perform new versions of a number of their originals. They sound like they're having a blast, but it certainly makes this listener weary when heard all at once. This album is a bit out of order, as I had it listed under "Jard Fair" for some reason. I'm sure that most Farmer's Markets carry Jarred Fair.
Jane's Addiction -
Jane's Addiction
(1987),
Nothing's Shocking
(1988), and
Ritual De Lo Habitual
(1990). This dates me, but I bought all of these albums in their year of release. I even had one of the banned cover versions of the
Ritual
CD, as pictured at right. Saw them in Birmingham in 1991. So yes, this is the music of my youth. I find it a little too bombastic now, but man, did I love this psychedelic metal-tinged indie-rock stuff when it first showed up on the scene.
Jarvis Cocker - "Don't Let Him Waste Your Time." Half-decent song from the former Pulp frontguy.
Jay Bennett -
Whatever Happened I Apologize
(2008). Lots of talented people have passed through Wilco over the years, but I think Bennett deserves the greatest credit for pushing Jeff Tweedy out of his comfortable alt-country kitchen and into the great wide world of experimental music with big, huggable pop leanings. Bennett came on board for
Being There
, which opened doors that weren't apparent in Tweedy's music prior to this. Then, with Bennett producing, they made Wilco's most Bennett-like album
Summerteeth
, which is still a strange and beautiful document, all these years later. Bennett wanted to produce and engineer
Yankee Hotel Foxtrot
, too, but as the documentary
I Am Trying To Break Your Heart
shows, Tweedy was growing increasingly threatened and annoyed by Bennett. Tweedy gave the tapes to Jim O'Rourke, who radically modified the sound of the album. As people may recall, Wilco's record label dropped them when they turned over the tapes. I'm pretty sure this was pre-O'Rourke, based on the documentary, because drummer Ken Coomer had been dropped right before the documentary started. A few years later, Wilco was picked up by Interscope - a different subsidiary of the same record company, actually - and the band released the O'Rourke-ified
Yankee Hotel Foxtrot
. And as soon as it was released, Wilco fired Bennett. Bennett put out a few albums afterwards, but this was his last. He filed suit for breach of contract against Wilco in early May 2009, probably spurred by hip replacement surgery that his insurance wouldn't cover. Then, on May 24, 2009, he overdosed on pain pills in his sleep. That's a goddamn shame, and that's on his insurance company. Anyway, this album was his fifth. It's mostly acoustic, but with lots of the keyboards and organs that mark his work. Great songs, but almost too sad, given the circumstances, to listen to.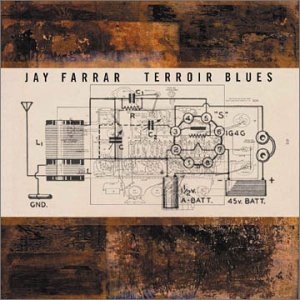 Jay Farrar -
Terroir Blues
(2003). Another guy named Jay who didn't get along with Jeff Tweedy, Farrar and Tweedy fronted the legendary Uncle Tupelo. When that band split in 1994, Tweedy formed Wilco and Farrar formed Son Volt. I thought Son Volt's first album was great, but lost interest with subsequent releases. Farrar's solo career has a similar interest for me. This album is fine in small pieces, but a little dull as a whole, even with the short sonic studio noise tracks that Farrar interjects throughout the album.
Jay Reatard -
Matador Singles '08
(2008). Offensive name, but not a bad songwriter. These are pretty damn catchy, and I hear that his previous Matador singles collection was even better. So I'll eventually pick that up. His cover of Deerhunter's "Fluorescent Grey" is quite peachy. And that may be all I have to say about Jay Reatard.
The Jayhawks -
Blue Earth
(1989),
Hollywood Town Hall
(1992), and
Tomorrow The Green Grass
(1995). This progression from an ok folk-rock band to a top-notch classic rock-style band is breathtaking.
Blue Earth
is alright, but
Hollywood Town Hall
is pretty great ("Settled Down Like Rain" in particular) and
Tomorrow The Green Grass
is a stunner. At least half of the songs are so timeless that it's hard to believe this album only came out in 1995: "Blue," "I'd Run Away," "Miss Williams'Guitar," "Two Hearts." Man, that's some great stuff.
The Jazz Composer's Orchestra -
Communications
(1968). Freakin' amazing. Besides the two-part piece written specifically for Cecil Taylor, here's a partial list of the personnel on this album: Gato Barbieri, Carla Bley, Ron Carter, Don Cherry, Larry Coryell, Richard Davis, Beaver Harris, Charlie Haden, Reggie Workman, and Pharoah Sanders. DAMN! Amazing stuff.