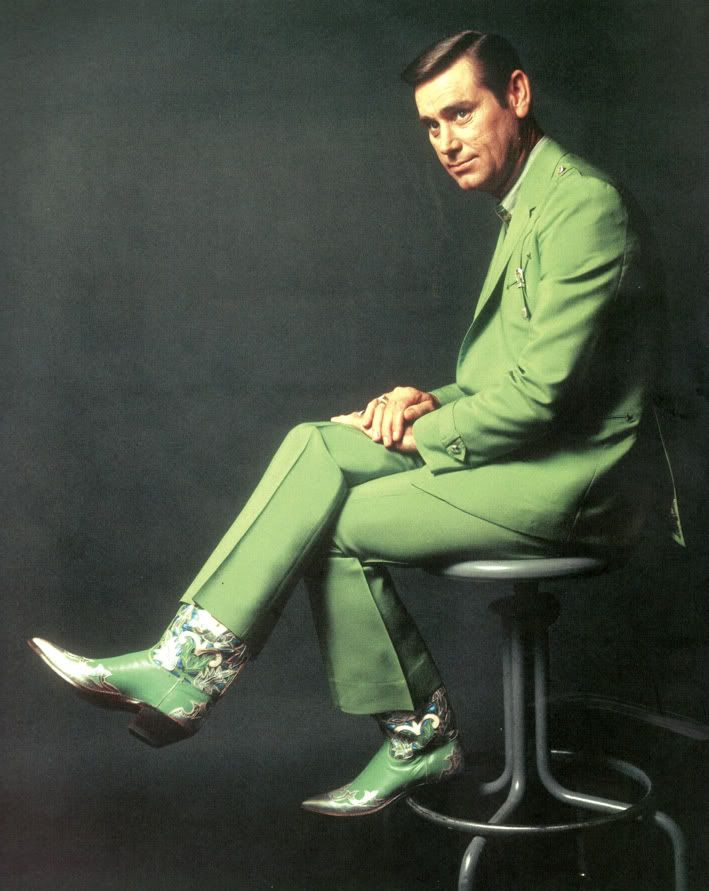 Have you ever seen these guys in the same place before?
George Clinton - Atomic Dog EP (1982) and Greatest Funkin Hits (1996). The former includes a couple of different mixes of Clinton's huge dance hit. The latter is just odd, with no original versions of Clinton's solo hits, but remixes of those tracks, along with remixes of different Parliament/Funkadelic tracks. In none of these cases are these remixes better than the originals.
George Jones - Lemme just put this card on the table: George Jones is the greatest singer in country music, and easily one of the top five greatest vocalists of the 20th century. You look around for singers who inhabit their songs so completely, who can push their emotion with as much skill, and, well, you find yourself with a pretty small list. Jones's hero Hank Williams is close, but I think George Jones at his best leaves Hank in the dust. Sinatra could give him a run, maybe. Ella Fitzgerald. The air's getting thin up here, though, so let's not try to finish that list right now.


Cup Of Loneliness: The Mercury Years (covering 1954-1964). This is a collection of Jones's earliest country sides. You can hear some echoes of Hank in his delivery, but right from the start there's that particular George Jones-ness that would eventually push all of the Hank right out of his voice. It helps that these songs are all amazingly well-written (and it should be noted that Jones wrote or co-wrote about 75% of the songs herein), with just the right tension between the tightness of the structure and the freedome for Jones to deliver a loose and distinctly personal take on the lyrics. Amazing, amazing, amazing stuff. Incidentally, I should point out that while I generally prefer owning individual albums for artists I like rather than these greatest-hits collections, with a singles artist like Jones who has a career that spans decades, and who often released multiple albums every year, a singles collection is the best way to go. Best songs: "Take The Devil Out Of Me," "Color Of The Blues," "I'm Gonna Burn Your Playhouse Down," and "Talk To Me, Lonesome Heart."


The Essential: The Spirit of Country (covering 1955-1989). One of the best career overviews available, this two-disc best-of has minimal overlap with Cup Of Loneliness, a testament to how many fantastic tracks Jones has recorded. The guy switched labels a few times in the 60s and 70s, which made such an overview difficult, but man oh man, is this worth it. I can take or leave his work after roughly 1985, but even when the man is coasting, it's lovely to hear him tear off the brakes and just go for it, as he does sometimes. Just about all the songs on here are great, but of special note are (no surprises here): "A Good Year For The Roses," "The Grand Tour," and "He Stopped Loving Her Today." Every one of them packs a whole novel's worth of emotion.


Hank, Bob, and Me: Songs Of Hank Williams and Bob Wills (1962). A weird one that combines singles from Jones's Hank tribute album and Wills tribute album without including all the tracks from either. The Possum's in fine form, though.


(with Melba Montgomery:) What's In Our Heart (1963), Bluegrass Hootenanny (1964), Close Together As You And Me (1966), and George Jones And Melba Montgomery (1968). Melba Montgomery had the perfect voice to duet with Jones, and everything on here is top-notch. They released some five albums together during the 60s. The first three of these are among those, while the last is a best-of of sorts that draws heavily from their last album, 1967's Party Pickin'. Montgomery went on to duet with Gene Pitney and Charlie Louvin, as well as release her own albums, but her career petered out in the 70s. She's still alive, I think, and there's definitely an interesting story in there. Anyway, these duets are excellent.


Singles: "Open Pit Mine," "I Saw Me," "Where Does A Little Tear Come From," "Things Have Gone To Pieces," "The Honky-Tonk Downstairs," "That's All It Took" (with Gene Pitney), "Beneath Still Waters," "Your Angel Steps Out Of Heaven" (with Johnny Paycheck), "Where Grass Won't Grow," "Tell Me My Lying Eyes Are Wrong," "Wrong Number," and "Yearning" (with Dolly Parton). Since I don't have an extra couple-hundred bucks lying around to purchase the two Bear Family boxes of Jones's output from the late-60s/early-70s (each with four or five discs), I've made do by cherry-picking tracks off of various compilations and such that have passed through my hands over the years. All of these songs are amazing, but the best ones are the "Things Have Gone To Pieces," a Leon Payne-written tracks that is the bluest song in the world, "That's All It Took," which Gram & Emmylou tore up on one of his solo albums, and "Beneath Still Waters," which is a rare beauty.


(with Tammy Wynette:) "Lifetime Left Together," "Let's Build A World Together," and "No Charge." Three okay singles from his 70s album with Tammy Wynette, his wife at the time. I already said that Montgomery had the perfect voice to duet with him, and I still think that. Wynette doesn't sing poorly with the guy, just not, y'know, excellently. Sweet songs, though, if a little too saccharine, especially that last one.