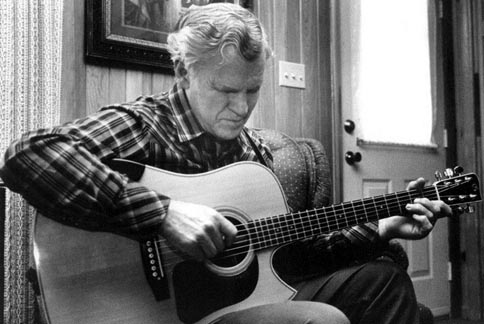 There's a strange, but fitting, transition here from the swing virtuosity of Django Reinhardt to the bluegrass virtuosity of Doc Watson to the bluegrass primitivism of Dock Boggs.


Django Reinhardt - "Christmas Swing," The Indispensible Django Reinhardt (recorded 1949), and Verve Jazz Masters 38 (1993). Reinhardt is, of course, one of the greatest musicians of the 20th century, a guy who plays jazz guitar with a quicksilver skill that is as technically impressive as it is easy and enjoyable for listeners. No one hates Django Reinhardt. More impressive: Django lost the use of two fingers on his left hand in a fire when he was young, so all those incredibly fast runs around the fretboard, all those weird chordings, everything he played that you can listen to - all of that was executed with only two working fingers on his fretting hand. See, that's impossible. I think I could mathematically prove that it's impossible. And yet, it's true, and it's magic.
Doc Watson - The Best of Doc Watson: 1964-1968, Riding The Midnight Train (1986), Portrait (1987), Remembering Merle (1992), Docabilly (1994), and Del Doc & Mac (1998). Watson, blind since he was a baby, plays old-time folk and country with the speed and soul of a swing jazz guitarist. Watson's a great singer, too, with a rough and mournful edge in his voice that brings his songs on over. His first album came out in 1964, when Doc was already in his 40s. The first album here is a selection of tracks from the first 6 Watson albums, all produced for the Vanguard label. His son Merle joined him as his accompanyist starting with his second album in 1965. Merle played on subsequent Doc Watson albums for the next 20 years, but he was tragically killed in a tractor accident in 1985. Riding The Midnight Train was the last album that Merle played on, but Doc honors his son's memory every year with the extraordinary Merlefest bluegrass festival in Wilkesboro, NC. So, the music. I prefer the earlier material to the later albums, although the collection Remembering Merle, which features some of the best collaborations between the Watsons, is amazing, too. Docabilly is a rare departure for the man, featuring him playing electric guitar on a bunch of old rockabilly tunes (with Junior Brown on steel guitar!). But, nice as it is for the man to step out of his comfort zone, it ain't such a great album. Del Doc & Mac is a collaboration with Del McCoury and Mac Wiseman, and it sounds like a bunch of elderly masters of their genre having fun goofing around together, which is exactly what it is.
Dock Boggs - Country Blues: The Complete Early Recordings (1927-1929) and His Folkways Years, 1963-1968. One of the sources for Doc Watson's style, Boggs was a coal miner who recorded a few hillbilly records on his banjo in the 20s that sold moderately. Harry Smith uncovered them in the 50s and included them in his massive Anthology of American Folk Music, which spurred the folk resurgance of the early 60s, which gave the world Bob Dylan and Doc Watson, among others. Anyway, Boggs had pawned his banjo during the Great Depression, and didn't play again until 1963, when he bought a new banjo for himself only a month or two before the folk music anthologist Mike Seeger tracked him down. Seeger convinced Boggs to start playing for people at folk festivals and to record for the Folkways record label. These albums include everything Boggs recorded in the two phases of his music career. The Early Recordings is a Revenant release, which means that it's exquisitely documented and includes a few similar tracks for context. In this case, the context is provided by four recordings from Bogg's contemporaries Bill and Hayes Shepherd. The Folkways Years compiles the tracks from the three Folkways albums Boggs made throughout the 60s. Oh, and the music: Boggs sounds like the voice of hard living looking squarely down at Hell and knowing that's where he's heading and being torn between fear and unconcern. He's one of the most harrowing folk artists out there, but he's also a lot of fun to listen to. When you don't feel like killing yourself, that is.
----
Catch-up!
Bob Dylan - New Morning (1970), Blood On The Tracks: New York Sessions (1974), and No Direction Home: The Soundtrack (The Bootleg Series Vol. 7) (2005). New Morning is an album that I coveted when I went through the Dylan albums a few months ago. It's one of the few new Sony albums on eMusic that I was excited about, so I downloaded it. And I'm glad I did, because it's wonderful. Blood on the Tracks: New York Sessions is a bootleg that features all of the original versions of the songs on Blood on the Tracks, which were originally recorded in NYC with Phil Spector producing. Concerned that the album was too monotonous, Dylan went to Minneapolis and re-recorded about half of the songs: "Tangled Up In Blue," "You're A Big Girl Now," "Idiot Wind," "Lily, Rosemary, and the Jack of Hearts," and "If You See Her, Say Hello." So half of these songs were on the completed album. And three of the unreleased versions ("Tangled Up In Blue," "Idiot Wind," and "If You See Her, Say Hello") were included on the first Bootleg Series box set. So there's only two new tracks on this bootleg. I'm going to keep them and delete the rest. No Direction Home: The Soundtrack is another eMusic Sony album, and includes the incredibly rare music from the Scorcese documentary plus some more unreleased material that the archivists found, although it didn't make it into the movie. Great for Dylan fanatics!
Bonnie "Prince" Billy & Matt Sweeney - Superwolf (2005). Sweeney is all over the place, fronting the band Chavez and recording with Zwan, Guided By Voices, Cat Power, Johnny Cash, Andrew W.K., Six Organs of Admittance, El-P, and the Dixie Chicks, among others. He's also been in the touring band for Will Oldham (aka the Bonnie Prince) for a number of years. On this album, the two collaborate to produce one of the strongest and most rocking albums in Oldham's repertoire.